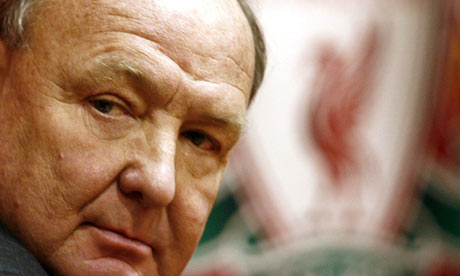 Liverpool's co-owner Tom Hicks has revived the prospect of another takeover at Anfield by opening negotiations with the Kuwait billionaire, Nasser al Kharafi, over a possible sale of the club.
Talks between the American's representatives and Al Kharafi, who is estimated to have a £9bn fortune, were held in the last fortnight as part of Hicks' ongoing attempts to raise the funds to build a new stadium on Stanley Park. It is understood, however, that a deal for Hicks and George Gillett's entire holding has also been discussed.
The American co-owners value Liverpool at around £600m, a figure that prompted the ruler of Dubai, Sheikh Mohammed al Maktoum, to drop his long-standing interest in the club. Hicks and Gillett were granted a six-month extension to their £350m refinancing deal for Liverpool earlier this month but are under pressure to raise the funds for that repayment to the Royal Bank of Scotland and to find an estimated £400m required to construct the stadium. Gillett also has to refinance a £40m loan secured as a personal guarantee in the refinancing package.
Nasser al Kharafi was initially approached by Gillett when the co-owner was looking to sell his 50% stake in Liverpool last year but a deal could not be agreed. The latest approach came from Hicks and without Gillett's knowledge, however, highlighting the ongoing division within the Anfield hierarchy and raising the prospect of another fraught battle for control of Liverpool at a time when Rafael Benítez's side are in pursuit of their first league title for 19 years.
Al Kharafi, the 48th richest man in the world, has been previously linked with a move for Newcastle United and talks are currently at a preliminary stage. Hicks is known to want to maintain a majority stake in Liverpool and a place on the club's board but, given the current economic climate, may accept an offer for a full sale should the Al Kharafi family meet the Americans' asking price.
by Andy Hunter guardian.co.uk